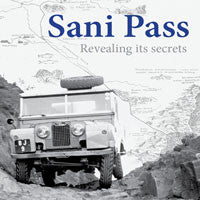 SANI PASS: Revealing its Secrets - OUT OF PRINT
---
---
---
Sani Pass has evolved over 100 years, from a game track to a challenging and dangerous road through the Umkomazana valley, used by muleteers and later motor vehicles for moving goods between Natal and eastern Lesotho over the Drakensberg Mountains.
Mountain traders, missionaries, the Basotho people, a small garage and the Mokhotlong Mountain Transport Company form a backdrop to this fascinating story of the early days, interwoven with the author's experiences as a juniortrading-store assistant who later became a tourist driver on Sani Pass. James Colman plied the treacherous route for 3 years. Intriguing stories about the politics,police, missionaries, traders and district commissioners in the area, as  well as  tales of bravery, rivalry, camaraderie and daring,fill these pages.
Photographs graphically illustrate the beauty of the terrain and the people who make up the story. The book is a tribute to those who lived, worked and kept the peace in this remote region in those days.
About the Author
James Colman was born in Solihull, Warwickshire in 1945. Land Rovers were born there three years laterand the two have been friends ever since! After a farm training in Shropshire , he came out to Underberg in 1967. He planned to stay for a year but instead he fell in love with the rugged terrain of the Sani Pas which sparked his love of travel – Southern Africa, Australia and Asia almost rivalling his love of Land Rovers and vintage cars. He has travelled widely in Southern Africa, Australia and Australia and Asia. James met his wife Sue in South Africa: her family farm Lifton was situated near the foot of Sani Pass. They now live in Oxfordshire in the United Kingdom and have two sons. And a 1922 Model T Ford.
NOTE - THIS BOOK IS OUT OF PRINT
---
Share this Product
---
---